Every successful marketing strategy starts with identifying your core target audience; after all, you can't begin building a library of great content to share, until you know who that content is aimed at.
You need to create what's known as a 'client persona'.
It's highly likely that you will go on to develop various client personas for different sectors of your business, but for now let's concentrate on just one.
A survey by Ascend2 published in October 2015 revealed that two-thirds of marketers interviewed plan to 'ramp up' their audience engagement activity in 2016.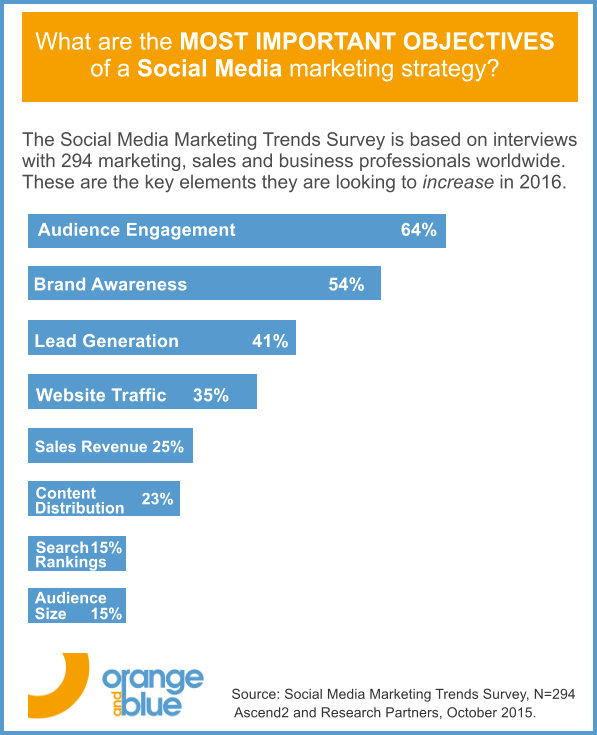 One of the main reasons audience engagement has become so crucial to business success is the mobile revolution.
In 2015, mobile traffic overtook desktop traffic for the first time, alongside which Google released its mobile-friendly algorithm giving prominence to mobile-friendly web pages. This signal tells business owners in no uncertain terms that in 2016, a mobile-friendly website is no longer a 'nice to have' – it's an essential requirement.
No matter what size your company, or sector you are in, content generation should be an integral part of your marketing strategy in 2016.
But what kind of content should you put in front of your audience? Written content? Infographics? Podcasts? Video?
All of these?
We need to look to our audience to provide the answer to this fundamental question.
What Does Your Target Audience Look Like?
So let's begin by creating a persona of our ideal customer or client.
YouGov's pool of 400,000 UK-based people who regularly share their likes, opinions, browsing habits and more, translates into a marketer's goldmine, so it's worth signing up for a free account at YouGov Profiles.
Once you've signed up and confirmed your email address you can use this handy app to discover more about the target audience you want to attract.
Let's say we are launching a new outdoor clothing brand. Our online shop will stock trekking gear: jackets, gilets and boots aimed at a predominantly female audience.
So let's pop across to YouGov Profiles and access their database of 'survey respondents' to build our first marketing persona.
You can use the Profiles' site to search for anything, anyone, or any brand. In this case we've entered the term "outdoors" into the search box. This returns us two options: Go Outdoors and Cotswolds Outdoors – either of which represents a good fit for us.
So we click on the first option and let the database weave its magic. This is what we are presented with: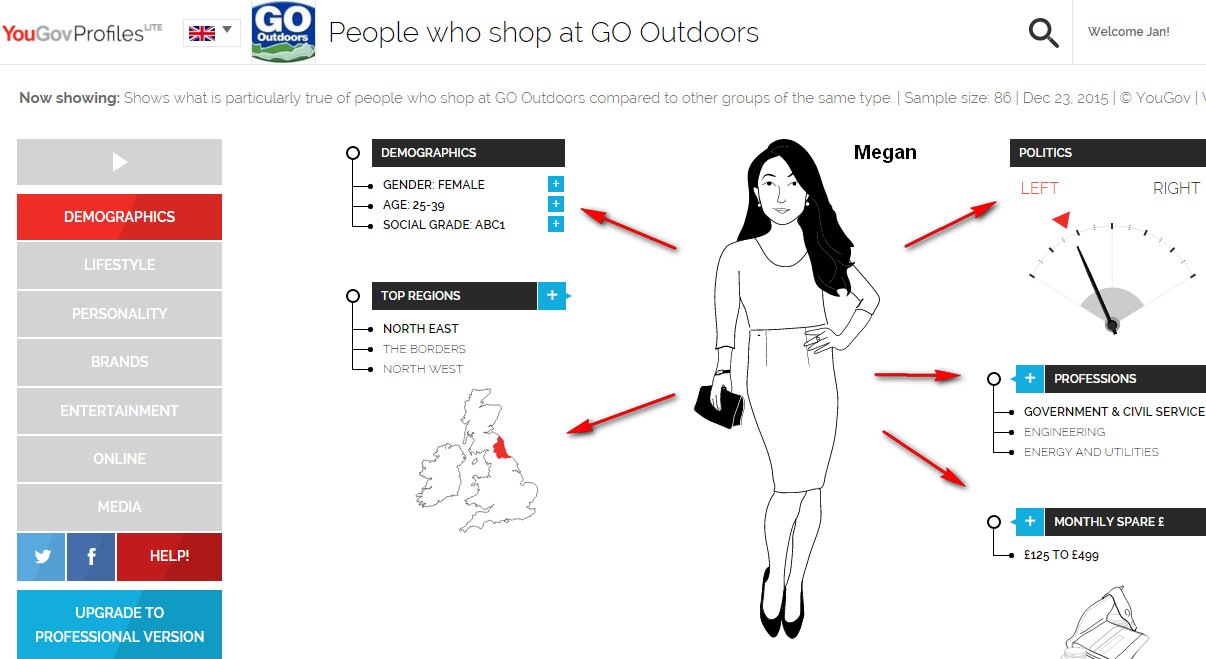 As you can see, we've given our target customer a name: 'Megan'. Through the left-hand menu, we can view Megan's key traits such as:
Demographics
Lifestyle
Personality
Brands
Entertainment
Online
Media
Scrolling through these individual elements will give us a pretty comprehensive 360-degree overview of what makes Megan tick. Which makes it a whole lot easier to craft content that will appeal to Megan and her peers.
Armed with a handful of valuable insights, all our content marketing efforts will be concentrated around Megan's wants, needs, likes and preferences. Going forward, as we get to know Megan 'in person', we can add snippets of 'intelligence' to our persona, which will make our content marketing efforts ever more tailored, personal and profitable.